Bay Rum
What you need to know
https://sharprazorpalace.com/preshav...tml#post157561
I decided to bring this thread back to life finally "After the Crash":
This is the Bay Rum Parade!!!!
I will break this down into three groups, The basic Alcohol and scent, The ones with some type of conditioners added, will be in the second group, and lastly the third group, will be made up of Bay Rum's that actually are made out of Rum!!!!
I don't think that my opinion would mean much when it comes to rating the scent. One, I love Bay Rum, period, as you can see, I might even be called a fanatic..... Two, scent is a personal preference, so my opinion would not mean all that much to you...
In the 1st Group:
We have .....
Lucky Tiger, Gabel's, and Pinaud's Clubman....
All 3 of these are basic After Shave splashes, they are pretty much Alcohol, Water, Scent, and coloring
Is this a bad thing, not really, many of the highly rated Cologne's and After Shaves are pretty much the same thing, The scents are straight forward and uncomplicated, they also fade rather quickly, the Clubman does have some staying power in the scent department..
Price here is not a concern at all the most expensive is maybe $10 for the Clubman...
The 2nd group:
Is also the largest group we have.....
Bois D' Inde, Dominica, Royall Bay Rhum, Taylor of Old Bond Street, Ogallala, and Masters.....
This group is the largest that I have tried so far, it also has the more expensive of the Bay Rum's in it...
These After Shaves all contain some type of skin conditioners in them, these include Witch hazel, Glycerin, Aloe, Real Bay oil, Clove oil, Cinnamon oil, Lemon oil, Carmel, and Menthol.....
The most expensive bottle here is the Royall the price seems to run between $36 and $54 depending on where you find it... The Royall is one of the old time scents here, I actually remember this when I was a kid and it actually had a bay leaf in the bottle, that goes back 45 years that I can remember, so if you are looking for the one that your Pop or Grand Pop used this is probably it.... The least expensive is the Master's at about $8 for that huge bottle....
These all have a little more staying power, when it comes to the scents, all of these leave the skin feeling a little softer, a little firmer, I guess the conditioners actually do work in them......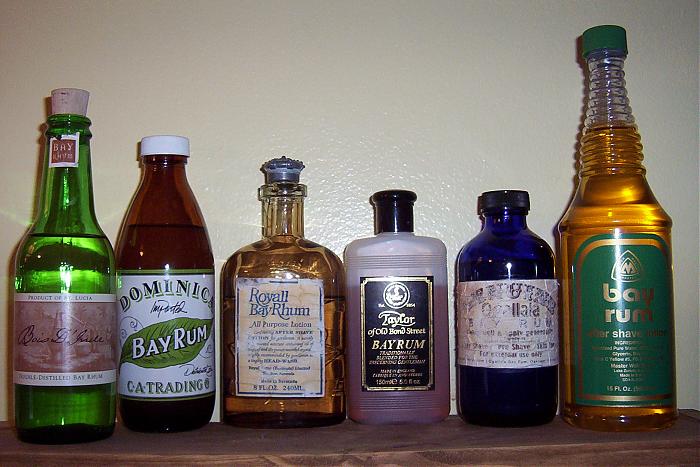 The 3rd Group:
We Have.....
Capt Smith's and SB (Sensuous Beauty)
These two, are the only ones that I have found so far, that actually say "made with rum" on the label.. These both have various additives, that mostly include fruit and spice infusions...
They're both are fantastic skin conditioners, BUT I will warn you about the Cap't.... This Bay Rum is probably the best conditioner, the scent is well lived, but when it hits your face, your expression will resemble
Macaulay Culkin
in "Home Alone" this AS, burns like the fires of hell at first, then leaves you with soft, tight, skin when the fires subside...... Both of these can be had at less than $20 shipped.....
Please feel free to add any Bay Rum's that you have tried to this review... If possible let us know what group it would be in, and post a pic, and price range....